New Magic in a Dusty World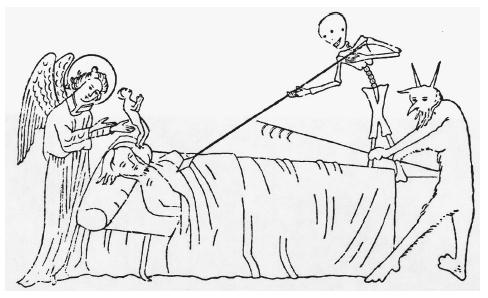 My father said to me as we walked arm in arm, slowly down the hall of an upscale nursing home, "I'm a dead duck. I don't have anything to live for, and I'm afraid to die." He'd been widowed twice, had been too abusive a father for any of his children to take him into their homes, and was slowly dying of conditions related to a lifetime of drinking Chivas Regal and smoking Marlboros.   My dad was basically saying the same thing Hamlet said. He didn't want to suffer the slings and arrows of outrageous fortune anymore, but he was too cowardly to leap into the unknown maws of death. There's the rub. 
I got into hospice work because I want to look right at the thing we fear so much, the thing that looms, that Edgar Allan Poe wrote about as a vivid, gothic horror.  Death, as much a part of life as birth, is still shocking — like something that no one believes could happen to them or those they love. The dying are often tucked away in institutions, avoided, pitied.
It seems to me that the most important work a person can do is to make dying less horrible for someone, including him or herself.  And that's what the hospice movement is all about. The medical staff in hospice care are amazing people. They know an impressive amount about palliative medicine — the relief of pain and discomfort.  I learned from one nurse all I need to know about morphine patches. 
This particular nurse was helping a colleague of mine, a cantankerous English teacher, a bachelor and a loner who'd left an abusive home in South Boston at 16 and joined the military. Like my dad, he smoked and drank. He got esophageal cancer that metastasized all over the place. A group of people who didn't really know Paul or each other well materialized around Paul as a team of caregivers, so he wouldn't have to be institutonalized. He could have his big screen t.v., but more importantly, his books around him.
Paul especially loved Thomas Wolfe. As a young soldier, he had gone on a pilgrimage to Wolfe's home in Ashville, North Carolina. There was a picture of him standing by Thomas Wolfe's grave with the author's elderly brother. One day when I was with Paul after a procedure that he'd been heavily drugged for, I sat next to him with a copy of Look Homeward Angel that he had just given me. Groggy, lying in a hospital bed, he told me to open the book to the first page and read it. I told him I didn't want to start reading that book until I'd finished You Can't Go Home Again. He said, "Just open the damned book and start reading." I did, and Paul began to recite from memory the entire first paragraph of Look Homeward Angel, …"that dark miracle of chance which makes new magic in a dusty world."  
Another man I stayed with in his final weeks was Mac, eighty something with Alzheimer's. He'd sit at the dining room table humming to himself, asking me who I was several times, and wanting to know when his wife was coming home. There were two things that soothed him. One was getting him to tell stories about his childhood, which I wrote down in a journal. I learned about how he could hear his mother playing Chopin on the piano from blocks away when he was a boy walking home from school. The other soothing thing was putting on a CD of the Ink Spots, a male singing group from the 1930's and 40's. Mac couldn't remember what day or year or season it was, but he could remember every word of those Ink Spots songs, including their big hit"If I Didn't Care." "If I didn't care would it be the same?"
There's a growing realization that there's something palliative, soothing, important about things like poetry, music, writing for those who are dying. I work with a program call Arts in Medicine which puts musicians in the waiting room of the cancer clinic, among other things. I read poetry while a massage therapist works on nurses in high stress areas such as the Intensive Care Units.
Another enlightened program has suggested that people make a living will, not about medical treatment, but about the things that they want with them for emotional comfort. I want, among other things, people to read to me. Paul wanted his books with him until the end. When someone suggested that he start giving them away as he was doing with his other things, he said, "No. My books are my friends."
I completely understood.